FEAR NOT
DIRECTION
Wim Vandekeybus
PERFORMED BY
Dymitrys Zypura, Luke Jessop, Doriane Dubost, Anna Senognoeva, Manuela Fiori Schneider, Fée Roels, Wim Vandekeybus
ORIGINAL MUSIC
Mauro Pawlowski, Elko Blijweert, Jeroen Stevens
ASSISTANT TO THE DIRECTOR
Greet van Poeck
STYLING
Isabelle Lhoas
PRODUCTION
Ultima Vez
CO-PRODUCTION
Ancienne Belgique, Les Ateliers Claus, VK Concerts, Beursschouwburg
SPECIAL THANKS TO
Iris Bouché, Sumalin Gijsbrechts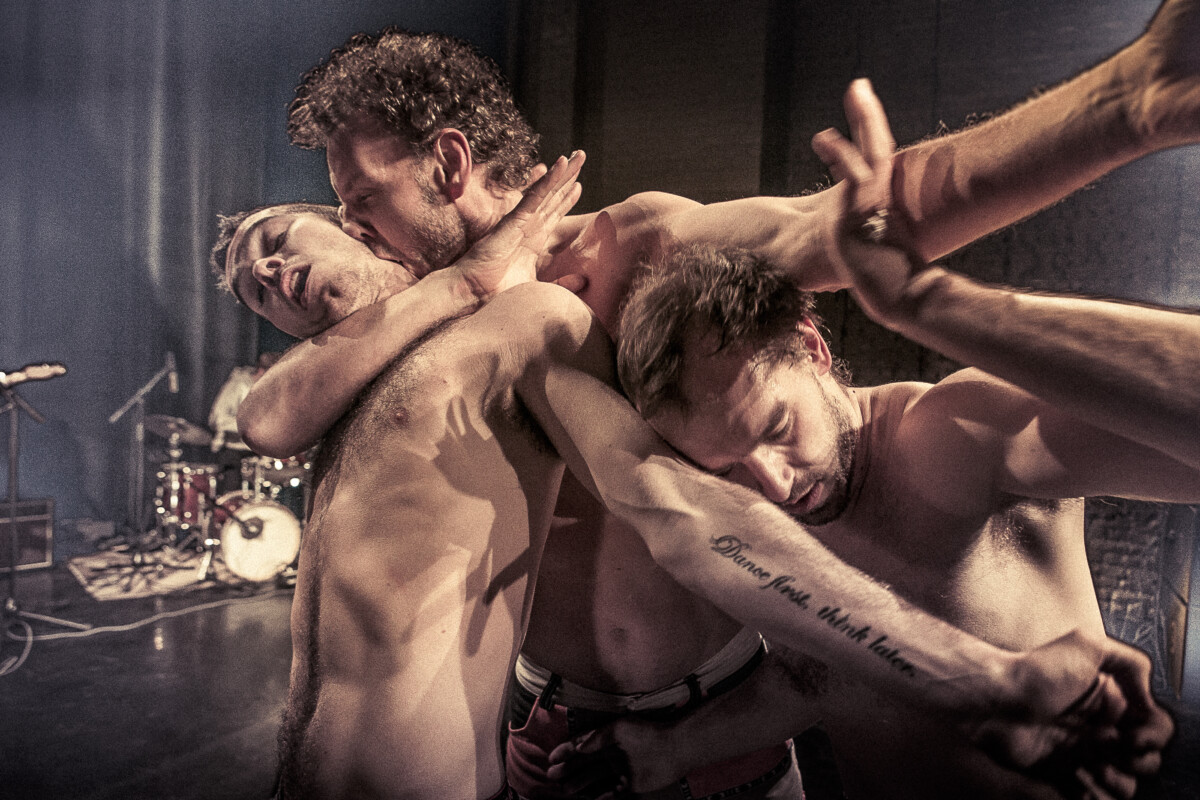 © Danny Willems
For Wim Vandekeybus, FEAR NOT was the pivotal part of the celebrations for Ultima Vez' 25th anniversary. While his legendary debut production What the Body Does Not Remember was being revived at the KVS, Vandekeybus, together with the AB, Vk*, Beursschouwburg and les ateliers claus, casted a musical eye to the future. His friend Mauro Pawlowski assisted him in four unique dance intermezzos as part of these evening concerts.
Music runs like a thread through Wim Vandekeybus' oeuvre. Peter Vermeersch, Thierry De Mey, David Byrne, Marc Ribot, Charo Calvo, Eavesdropper, David Eugene Edwards, Daan, Arno, Mauro Pawlowski, Roland Van Campenhout and Elko Blijweert – they have all written music for his productions. In November 2007 several of them celebrated the 20th anniversary of Ultima Vez when Vandekeybus transformed the AB into a real artistic Valhalla.
For FEAR NOT, all eyes were on the future. Together with Wim Vandekeybus, Brussels' music venues drew up a wish-list of the musicians who may inspire the choreographer in the next few years. And, with Mauro as a bridge between past, present and future, everyone had a dazzling four days of music and dance.
- Mauro Pawlowski + Wim Vandekeybus
- Mauro Pawlowski + Wim Vandekeybus
- Mauro Pawlowski + Wim Vandekeybus
- The Experimental Tropic Blues Band
- Mauro Pawlowski + Wim Vandekeybus
Agenda
13.02.13
Beursschouwburg
Brussels, Belgium
14.02.13
Ancienne Belgique
Brussels, Belgium
15.02.13
VK
Brussels, Belgium
16.02.13
Les ateliers claus
Brussels, Belgium